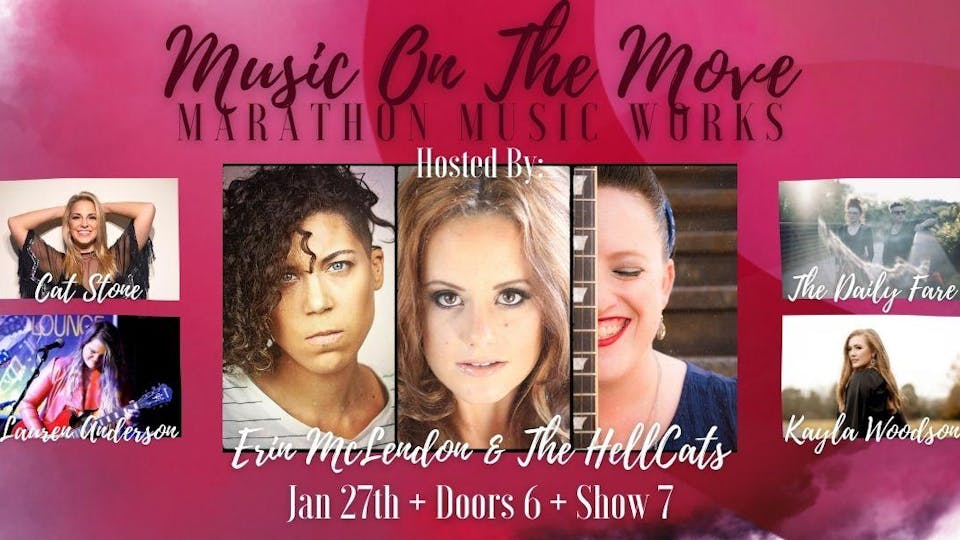 Hosted by Erin McLendon & The HellCats
Music On The Move
Erin McLendon & The HellCats, The Daily Fare, Cat Stone, Kayla Woodson, Lauren Anderson
Music On The Move hosted by: Erin McLendon & The HellCats at Marathon Music Works in Nashville, TN
This is a reduced capacity, socially distant, general admission seated event.
Tables and seats must be purchased together for each party.
Names of each attendee is required upon purchase. (Names on tickets can be changed after purchase by logging in to the purchaser's eventbrite account)
Masks are required to enter and must be worn at all times except when actively eating or drinking.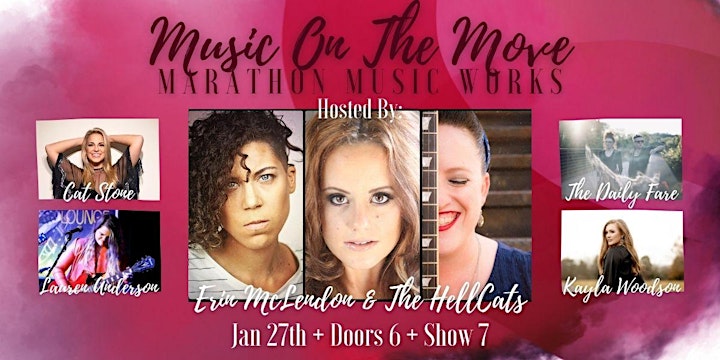 Music On The Move
Created and hosted by rising Americana/country artist Erin McLendon, Music On The Move (formerly Women on Fire) serves as a pivotal platform for local female musicians and entrepreneurs to share their talents.
Backed by all female band members, event planners, and vendors, the quarterly event has featured artists like Katie Basden, Lexi Larsen, Rachele Lynae, April Kry, Brinn Black, Jenny Teator, and Bee Taylor.
McLendon, the driving force behind Music On The Move, was inspired by all of the talented women she works with that don't get enough credit in Nashville. "I wanted to create a collaborative space that was not just country or pop; I wanted to have something that is open to all genres. Not only is this a regularly occurring event, it also showcases female owned & operated businesses in town who are working just as hard to 'make it' as the musicians on stage," McLendon says.
It's fitting that such a dynamic event would take place at one of Nashville's most iconic venues, Marathon Music Works. With the venue's history of defying stereotypes and hosting a wide variety of artists, Erin McLendon's Music On The Move fits perfectly in its spirited array of entertainment.
---
The safety of artists, guests and employees is our top priority. While health & safety procedures are followed on a daily basis, we will enforce the following to be sure everyone stays healthy as we bring live events back. For additional safety procedures, please visit marathonmusicworks.com/faqs.
Socially distanced, GA seated areas
Mask required unless actively eating/drinking
Temperature checks upon entry
Sanitation procedures throughout
*Safety requirements and procedures are subject to change based on local & federal regulations and/or mandates.
Any questions? Email us at ticketing@marathonmusicworks.com
If you are not feeling well and have symptoms or have tested positive for COVID in the past 14 days, you may request a refund by contacting ticketing@marathonmusicworks.com. Lineups and times are subject to change. Any ticket suspected of being purchased for the sole purpose of reselling can be canceled at the discretion of Marathon Music Works and/or Eventbrite. Valid government-issued photo ID required for entry to age-restricted events. Tickets available at the door (if not sold out). No re-entry.