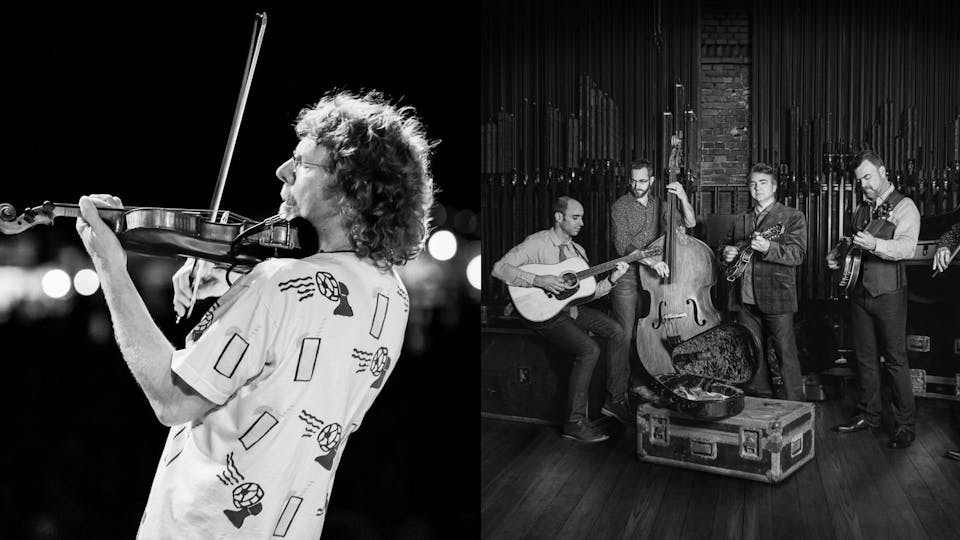 Sam Bush & The Travelin' McCourys at Marathon Music Works in Nashville, TN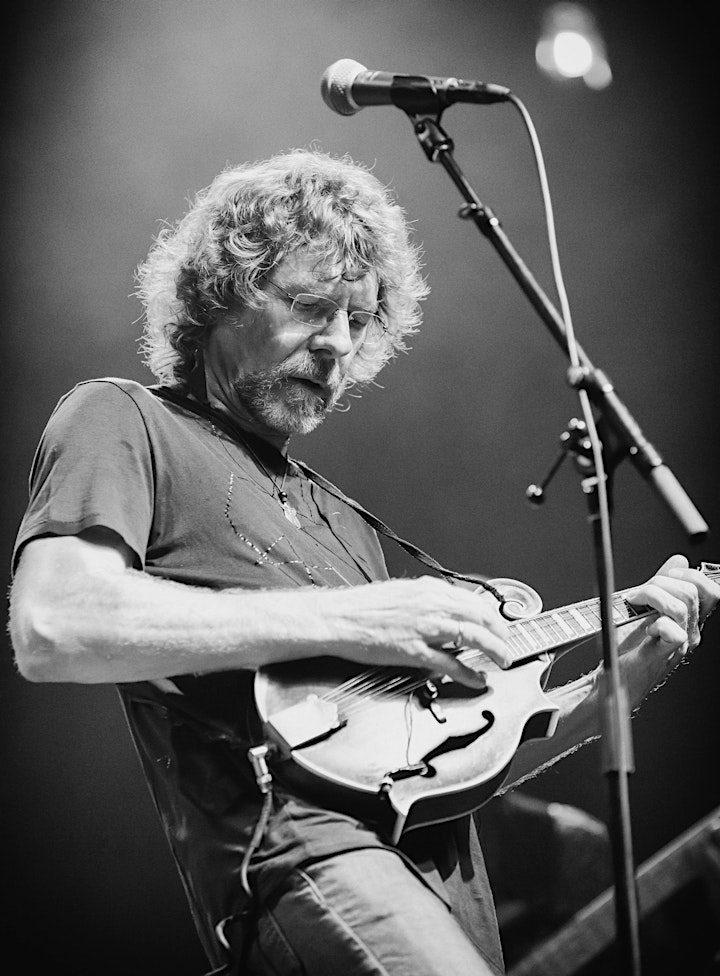 Sam Bush
Website | Facebook | Twitter | Instagram
There was only one prize-winning teenager carrying stones big enough to say thanks, but no thanks to Roy Acuff. Only one son of Kentucky finding a light of inspiration from Bill Monroe and his Blue Grass Boys and catching a fire from Bob Marley and The Wailers. Only one progressive hippie allying with like-minded conspirators, rolling out the New Grass revolution, and then leaving the genre's torch-bearing band behind as it reached its commercial peak.
There is only one consensus pick of peers and predecessors, of the traditionalists, the rebels, and the next gen devotees. Music's ultimate inside outsider. Or is it outside insider? There is only one Sam Bush.
On a Bowling Green, Kentucky cattle farm in the post-war 1950s, Bush grew up an only son, and with four sisters. His love of music came immediately, encouraged by his parents' record collection and, particularly, by his father Charlie, a fiddler, who organized local jams. Charlie envisioned his son someday a staff fiddler at the Grand Ole Opry, but a clear day's signal from Nashville brought to Bush's television screen a tow-headed boy named Ricky Skaggs playing mandolin with Flatt and Scruggs, and an epiphany for Bush. At 11, he purchased his first mandolin.
As a teen fiddler Bush was a three-time national champion in the junior division of the National Oldtime Fiddler's Contest. He recorded an instrumental album, Poor Richard's Almanac as a high school senior and in the spring of 1970 attended the Fiddlers Convention in Union Grove, NC. There he heard the New Deal String Band, taking notice of their rock-inspired brand of progressive bluegrass.
Acuff offered him a spot in his band. Bush politely turned down the country titan. It was not the music he wanted to play. He admired the grace of Flatt & Scruggs, loved Bill Monroe- even saw him perform at the Ryman- but he'd discovered electrified alternatives to tradition in the Osborne Brothers and manifest destiny in The Dillards.
See the photo of a fresh-faced Sam Bush in his shiny blue high school graduation gown, circa 1970. Tufts of blonde hair breaking free of the borders of his squared cap, Bush is smiling, flanked by his proud parents. The next day he was gone, bound for Los Angeles. He got as far as his nerve would take him- Las Vegas- then doubled back to Bowling Green.
"I started working at the Holiday Inn as a busboy," Bush recalls. "Ebo Walker and Lonnie Peerce came in one night asking if I wanted to come to Louisville and play five nights a week with the Bluegrass Alliance. That was a big, ol' 'Hell yes, let's go.'"
Bush played guitar in the group, then began playing after recruiting guitarist Tony Rice to the fold. Following a fallout with Peerce in 1971, Bush and his Alliance mates- Walker, Courtney Johnson, and Curtis Burch- formed the New Grass Revival, issuing the band's debut, New Grass Revival. Walker left soon after, replaced temporarily by Butch Robins, with the quartet solidifying around the arrival of bassist John Cowan.
"There were already people that had deviated from Bill Monroe's style of bluegrass," Bush explains. "If anything, we were reviving a newgrass style that had already been started. Our kind of music tended to come from the idea of long jams and rock-&-roll songs."
Shunned by some traditionalists, New Grass Revival played bluegrass fests slotted in late-night sets for the "long-hairs and hippies." Quickly becoming a favorite of rock audiences, they garnered the attention of Leon Russell, one of the era's most popular artists. Russell hired New Grass as his supporting act on a massive tour in 1973 that put the band nightly in front of tens of thousands.
At tour's end, it was back to headlining six nights a week at an Indiana pizza joint. But, they were resilient, grinding it out on the road. And in 1975 the Revival first played Telluride, Colorado, forming a connection with the region and its fans that has prospered for 45 years.
Bush was the newgrass commando, incorporating a variety of genres into the repertoire. He discovered a sibling similarity with the reggae rhythms of Marley and The Wailers, and, accordingly, developed an ear-turning original style of mandolin playing. The group issued five albums in their first seven years, and in 1979 became Russell's backing band. By 1981, Johnson and Burch left the group, replaced by banjoist Bela Fleck and guitarist Pat Flynn.
A three-record contract with Capitol Records and a conscious turn to the country market took the Revival to new commercial heights. Bush survived a life-threatening bout with cancer, and returned to the group that'd become more popular than ever. They released chart-climbing singles, made videos, earned Grammy nominations, and, at their zenith, called it quits.
"We were on the verge of getting bigger," recalls Bush. "Or maybe we'd gone as far as we could. I'd spent 18 years in a four-piece partnership. I needed a break. But, I appreciated the 18 years we had."
Bush worked the next five years with Emmylou Harris' Nash Ramblers, then a stint with Lyle Lovett. He took home three-straight IBMA Mandolin Player of the Year awards, 1990-92, (and a fourth in 2007). In 1995 he reunited with Fleck, now a burgeoning superstar, and toured with the Flecktones, reigniting his penchant for improvisation. Then, finally, after a quarter-century of making music with New Grass Revival and collaborating with other bands, Sam Bush went solo.
He's released seven albums and a live DVD over the past two decades. In 2009, the Americana Music Association awarded Bush the Lifetime Achievement Award for Instrumentalist. Punch Brothers, Steep Canyon Rangers, and Greensky Bluegrass are just a few present-day bluegrass vanguards among so many musicians he's influenced. His performances are annual highlights of the festival circuit, with Bush's joyous perennial appearances at the town's famed bluegrass fest earning him the title, "King of Telluride."
"With this band I have now I am free to try anything. Looking back at the last 50 years of playing newgrass, with the elements of jazz improvisation and rock-&-roll, jamming, playing with New Grass Revival, Leon, and Emmylou; it's a culmination of all of that," says Bush. "I can unapologetically stand onstage and feel I'm representing those songs well."
---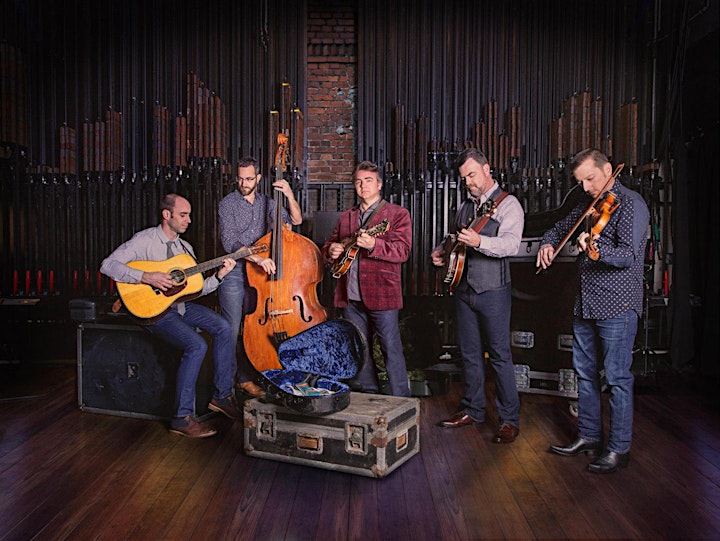 The Travelin' McCourys
Website | Facebook | Twitter | Instagram
From a source deep, abundant, and pure the river flows. It's there on the map, marking place and time. Yet, the river changes as it remains a constant, carving away at the edges, making new pathways, gaining strength as it progresses forward. The Travelin' McCourys are that river.
The McCoury brothers- Ronnie (mandolin) and Rob (banjo) - were born into the bluegrass tradition. Talk about a source abundant and pure: their father, Del, is among the most influential and successful musicians in the history of the genre. Years on the road with Dad in the Del McCoury Band honed their knife-edge chops, and encouraged the duo to imagine how traditional bluegrass could cut innovative pathways into 21st century music.
"If you put your mind, your skills, and your ability to it, I think you can make just about anything work on bluegrass instruments," says Ronnie. "That's a really fun part of this- figuring the new stuff out and surprising the audience."
With fiddler Jason Carter, bassist Alan Bartram, and latest recruit Cody Kilby on guitar, they assembled a group that could take what they had in their DNA, take what traditions they learned and heard, and push the music forward. In fact, the band became the only group to have each of its members recognized with an International Bluegrass Music Association Award for their instrument at least once. There were peers, too, that could see bluegrass as both historic and progressive. Rock and Roll Hall of Fame inductees The Allman Brothers Band, improv-rock kings Phish, and jamband contemporary Keller Williams were just a few that formed a mutual admiration society with the ensemble.
The band played the Allman's Wanee Festival, and guitarist Warren Haynes' Christmas jam- an annual holiday homecoming of Southern music. An early-years jam with the Lee Boys was hailed by many as the highlight of the evening, and with the video catching fire online, earned a legion of new, young fans of their supercharged combination of sacred steel, R&B, and bluegrass. There were unforgettable collaborations with country smash Dierks Bentley, and onstage magic, jamming with titans String Cheese Incident and Phish, cutting an album with Keller (Pick), and creating the Grateful Ball- a tribute concert-turned-tour bridging bluegrass with the iconic music of the Grateful Dead.
"That's something that's part of us being who we are," says Ronnie. "It comes, too, with us plugging in. It gets louder, for sure. We can't be another version of our dad's band. It wouldn't make any sense for us to do that."
Their concerts became can't-miss events, whether headlining historic venues or as festival favorites, drawing the love and respect of a growing fanbase craving their eclectic repertoire. At the 2016 edition of DelFest, an annual gathering of the genre's best aptly named for the McCoury patriarch, the band delivered the take-away highlight. Rolling Stone called it "a sublime combination of rock and bluegrass, contemporary and classic, old and young. The best set of the festival…" The river was going new places, getting stronger. It was time to re-draw the map.
"We've tried to pick songs we think people are going to enjoy," says Ronnie. "Something we learned from our dad is that a good song is a good song. It can be done in any way."
So arrives the long-awaited, self-titled debut album from the quintet. A brilliantly executed set overflowing with inventive style, stellar musicianship, and, of course, plenty of burnin' grass, the 14-song collection is a true culmination of their decades-long journey. From the headwaters of Bill Monroe and the waves of Jerry Garcia to a sound both rooted and revolutionary, soulful and transcending that belongs only to the Travelin' McCourys.
"The album definitely shows what we've evolved into as a band. And, it's a pretty good representation of what's happening with the whole genre," says Rob. "The old bluegrass material is something I love but it's been done many times. We're forging ahead with our own sound. That's what you have to do to make it all work."
---
Absolutely no refunds - no exceptions. Lineups and times are subject to change. Any ticket suspected of being purchased for the sole purpose of reselling can be canceled at the discretion of Marathon Music Works and/or Eventbrite. Valid government-issued photo ID required for entry to age-restricted events. Tickets available at the door (if not sold out). No re-entry. Physical tickets available at the box office.