About This Event
--
This show currently has no COVID safety requirements for attendees. This is subject to change. If this changes we will be sure to update this page as well as notify all ticket buyers via email.
Artist Info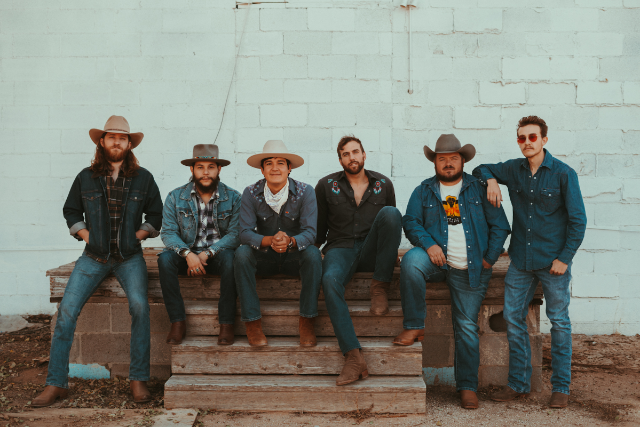 Flatland Cavalry
Flatland Cavalry is breaking out into a gallop. After years of hot trotting across their native Texas, the country outfit is primed for a breakout with the release of their third full-length album, the sonically sprawling and wistfully written Welcome to Countryland.
The Texas sextet--bandleader and chief lyricist Cleto Cordero, guitarist Reid Dillon, bassist Jonathan Saenz, drummer Jason Albers, fiddle player Wesley Hall, and recent newcomer utility instrumentalist Adam Gallegos--continue to embrace their trademark sound while further pushing into the wild unknown. When it was time to embark on recording a new album, resting on their laurels was simply out of the realm of possibilities.
After the release of 2019's critically-acclaimed Homeland Insecurity and their 2016 full-length debut Humble Folks, they've been on a healthy trajectory rising through the country ranks. After years of working with Lubbock stalwart Scott Faris in the friendly confines of Amusement Park Studios, Flatland decided a change of scenery was necessary. Despite some hesitation and a mix of emotions, they instantly knew recording at Nashville's Sound Emporium Studio A with rising producer Jake Gear was the right move.
"With our last two projects, we knew that room and setup. There's comfort in working with Scott," says Albers. "I think it was important to try and further expand with this album. Sonically, this album is definitely something bigger."
"I think everyone kind of experienced this bit of nervousness going from Scott's studio to Sound Emporium," adds Dillon. "That first day, everyone was a little fidgety and shy. You eventually fall into this comfort zone."
While the roster of collaborative confidants and colleagues (Spencer Cullum, Jim Hoke, Billy Justineau, Hailey Whitters, and Kaitlin Butts) has continued to expand with Flatland's sound stride for stride, Countryland isn't a cut and paste effort with Nashville studio musicians. Rather, it finds the rootsy Texans delivering their A-game due to countless tour runs zig-zagging across the country and becoming seasoned performers and musicians.
Since their humble beginnings out in the Panhandle town of Lubbock, Texas, Flatland Cavalry has embraced their surroundings and rural West Texas roots. Formed in 2014 while attending Texas Tech University, Cordero and company made their presence felt within the Hub City's songwriting circles and dancehall circuits. Banking on Cordero's earnest pen and the band's blend of country instrumentation, toe-tapping grooves, and earworm choruses, Flatland quickly became a regional sensation.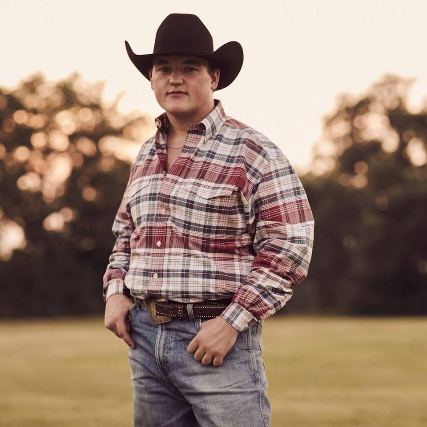 Jake Worthington
In 2014, Jake Worthington was named "Runner-Up" on Season 6 of the hit NBC TV Show "The Voice". While on the show, Jake released three songs that reached top 20 on Billboard. Success from "The Voice" led to a Social Media presence that reaches nearly 250,000 people across the US.
In October 2015, Jake released his first EP debuting at #16 Billboard Heat Seekers and #44 Billboard Country Albums. The first single off the EP "Just Keep Falling In Love" reached Top 50 on The Music Row Chart and Top 30 on The Texas Regional Radio Report. The Video was featured on GAC, CMT, and many other outlets.
In the summer of 2016, he released his follow-up single "How Do You Honky Tonk" and hit the road on the "How Do You Honky Tonk" Summer Tour sponsored by Amspec, Cinch Jeans, and Ernie Ball. The tour featured 26 stops in 16 states.
In 2017, Jake released his sophomore EP "Hell of a Highway" featuring hit songs "Don't Think Twice" and "A Lot of Room to Talk".
Jake is currently working on his debut album and will be on the road throughout the year in a city near you.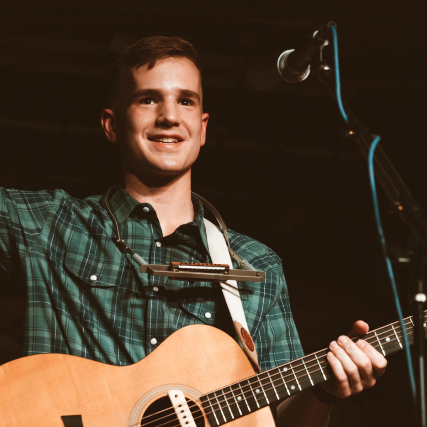 Keller Cox
Rising Texas country music artist Keller Cox is making waves with his series of singles he released in late 2020 and early 2021. Keller was born and raised in Houston, TX. before making his way to Texas A&M University where his voice and enthusiasm lead him to become the Head Yell Leader for Texas A&M during his senior year. While he is focusing on completing his final year of college, Keller has simultaneously been steadily paving his way onto the Texas Music Scene. As a songwriter, Keller clearly has a way of connecting with his listeners through songs about how life was, is, and ought to be. Keller's new collection of tracks, appropriately titled "Introduction", was produced by Corby Schaub, and features an impressive line-up of backing musicians. You can find Keller playing shows in the Austin and College Station area, with plans of touring during the spring after the release of his first full album titled "Makin' It By". All that to say, in the words of Keller himself, "Here goes something".