About This Event
VIP - Steve's Essentials Merchandise Package
Package Includes:
- One general admission ticket
- Early entry into the venue
- Exclusive Give You The World Tour merchandise item
- Official VIP lanyard and laminate
- Limited availability

--
This show currently has no COVID safety requirements for attendees. This is subject to change. If this changes we will be sure to update this page as well as notify all ticket buyers via email.
Artist Info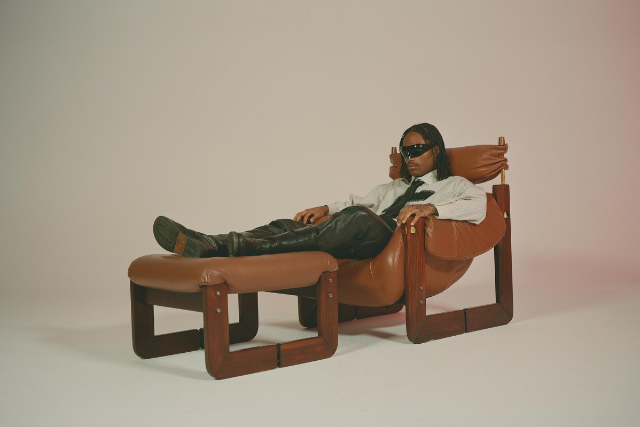 Steve Lacy
Alternative R&B artist Steve Lacy is in a presumably small class of musicians who have co-produced a Grammy-nominated album while still in high school. Foremost a guitarist, singer, songwriter, and producer, the musician joined the Internet in 2014 and made his recorded debut on the band's Ego Death (2015), which the Recording Academy nominated for Best Contemporary Urban Album. Lacy has since worked on his bandmates' assorted solo releases and outside the group has become a highly sought-after collaborator across genres. J. Cole's "Foldin Clothes," Kendrick Lamar's "PRIDE.," Tyler, The Creator's "911/Mr. Lonely," and Vampire Weekend's "Sunflower" were among the highlights added to his songbook through the tail-end of the 2010s. He has also released lazing, heartfelt solo material, including the EP-length "song series" Steve Lacy's Demo (2017), the Grammy-nominated full-length Apollo XXI (2019), and "Mercury," the first single off his follow-up Gemini Rights (set for 2022).
A native of Compton, California, Lacy became interested in the guitar while attending church. His mother obliged him by buying him his first instrument and lining up lessons. Befriended in high school jazz band by upperclassman Jameel Bruner, Lacy entered the orbit of the Internet, and in 2014 joined Bruner's band as they worked on their third studio LP. Using mobile device applications, he co-produced over half of the songs on Ego Death, released in June 2015. The album, which also featured Lacy's multi-instrumental work, entered the upper half of the Billboard 200 and was subsequently nominated for a Grammy in the category of Best Urban Contemporary Album. During 2016, the year he finished high school, he began his self-termed "song series" with the funky, easygoing "C U Girl," and branched out with contributions to recordings by Denzel Curry and Kali Uchis, as well as Jhené Aiko and Big Sean's TWENTY88 project, and Isaiah Rashad. He also co-produced "Foldin Clothes" for J. Cole's Billboard 200-topping 4 Your Eyez Only.
Lacy was even more active throughout the next few years. Internet bandmates Matt Martians and Syd released Lacy-assisted solo sets during the first couple months of 2017. During the same period, Lacy issued Steve Lacy's Demo on the independent 3qtr label. By the end of that year, he co-produced and was featured on GoldLink's "Some Girl," and co-produced Kendrick Lamar's Top 40 entry "PRIDE." (off the Grammy-winning DAMN.) and Tyler, The Creator's "911/Mr. Lonely" (off the Grammy-nominated Flower Boy). Early the following year, he produced and co-wrote the entirety of Ravyn Lenae's Crush EP and contributed to Mac Miller's Top Five hit Swimming, Kali Uchis' Isolation, and Blood Orange's Negro Swan. That July, the Internet's Hive Mind arrived with Lacy handling a heavier load of the band's production, songwriting, and playing duties -- guitar, co-production, and co-writing on all tracks, plus some co-lead and background vocals, keyboards, synthesizer, and drums on others.
He made high-profile appearances in early 2019 on Solange's When I Get Home and the Vampire Weekend single "Sunflower." That May, shortly after he appeared on Martians' The Last Party, Lacy released Apollo XXI, his first solo LP. It landed on the Billboard 200 and was nominated for a 2020 Grammy. Also that year, he released the non-album single "Live Without Your Love" with Love Regenerator. As a producer and featured artist, Lacy was one of the key contributors to Ravyn Lenae's Hypnos, issued in May 2022, and the next month issued the Brazilian jazz-funk-infused "Mercury," the first track off his second album, Gemini Rights. ~ Andy Kellman, Rovi