About This Event
--
PLEASE RIDESHARE - Parking is limited around the venue. We strongly recommend using rideshare apps like Uber or Lyft for transportation to and from the venue. There is a designated rideshare pick up / drop off location near the entrance for your convenience.

Need an Access Code? Sign up for our newsletter to get new show announcements, exclusive presale codes, rental discounts and more. Sign up HERE.

*Presale codes are usually sent out on Thursdays at 10am as part of our weekly newsletter.
This show currently has no COVID safety requirements for attendees. This is subject to change. If this changes we will be sure to update this page as well as notify all ticket buyers via email.
Artist Info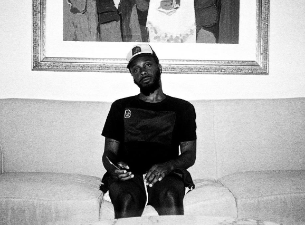 JPEGMAFIA
Born in New York to Jamaican parents, JPEG spent most of his mid-teens in the deep rural south, bouncing from place to place due to rough circumstances at home. 
After graduating high school, JPEG joined the military, deploying to different parts of the world, meeting fellow artists and adding new elements to his producing and rapping repertoire. Now based in Los Angeles, JPEGMAFIA's sound is dark but not without a humor that makes things even more uncomfortable. His role as villain or satirist, hood protector or nihilist is intentionally hard to put one's finger on.
Danny Brown
Detroit rapper Danny Brown embraced his unique hood/hipster personality, took full advantage of social media, and -- fueled by his experiences with drug dealing and drug taking, as well as a wicked sense of humor -- has delivered some of the most vivid, vulgar, and side-splitting rhymes of his era. The eccentric's most notable releases include the Billboard 200 Top 20 entry Old (Fool's Gold, 2013) and the Warp-released albums Atrocity Exhibition (2016) and uknowhatimsayin¿ (2019), projects bolstered by production from the likes of Paul White, Oh No, Black Milk, the Alchemist, and Q-Tip. While working towards new solo music, Brown teamed up with the ever-frenetic JPEGMAFIA for collaborative release Scaring the Hoes, which also cracked the charts.

Brown (real last name: Sewell) surfaced during the mid-2000s as a member of Reser'vor Dogs. The group advanced far enough to get the attention of the Roc-A-Fella label. A deal was not struck, but an A&R rep assisted Brown with the recording and release of a mixtape, Detroit State of Mind. New York recording sessions placed him in the company of several contemporaries, including G-Unit's Tony Yayo. In 2010, Yayo and Brown released Hawaiian Snow, while Brown also released The Hybrid, among other mixtapes, such as additional volumes of the Detroit State of Mind series. While it was rumored that Brown would be signing to G-Unit, label head 50 Cent allegedly balked due to the rapper's fashion sense (which included a preference for skinny jeans).

Brown eventually found a home at Fool's Gold, where he issued XXX, his highest-profile mixtape up to that point. At the end of 2012, Brown announced that the follow-up to XXX had been recorded. Originally titled ODB, it was continually pushed back by the label, with Brown tweeting in August 2013 that he would consider leaking the release. In October, the retitled album, Old, appeared with Paul White and Oh No among the producers, while A$AP Rocky and ScHoolboy Q contributed guest verses. A surprise hit, it entered the Billboard 200 at number 18. After he provided the theme for the U.S. television sitcom Fresh Off the Boat, Brown signed with Warp and made his label debut in 2016 with "When It Rain." The single's parent album, Atrocity Exhibition, was issued later in the year with White the principal producer, augmented by contributions from the Alchemist and Black Milk, among others. In October 2019, a couple months after the debut of his Viceland talk show Danny's House, Brown returned with his second album for Warp, uknowhatimsayin¿, the majority of which was produced by Q-Tip. The album was critically lauded, and reached the 134 position of the Billboard Top 200 chart. In 2021, Brown appeared as a featured guest on songs by Payday and BROCKHAMPTON, while readying his next album Quaranta. Before that solo album materialized, Brown worked with JPEGMAFIA on joint album Scaring the Hoes. The album was produced entirely by JPEGMAFIA utilizing a hardware sampler to make the beats rather than the usual digital audio workstations of modernized production. The album was highly experimental and reached the 84 slot of the Billboard Top 200 charts shortly after its March 2023 release. - from AllMusic.com