About This Event
VIP 1: ULTIMATE M&G AND SOUNDCHECK PARTY VIP PACKAGE
Includes:
- One general admission ticket with early entry
- Selfie photo opportunity with Tate McRae, photo taken on your personal cell phone so you can post straight to your socials! #TateMcRaeVIP
- Enjoy access to the pre-show Soundcheck Party and Q&A with Tate McRae
- One complimentary voucher to use at the concessions stand (where available)
- One VIP merch item hand selected by Tate McRae with branded candy
- One autographed VIP exclusive tour poster that comes with exclusive Tate McRae content
- One commemorative VIP laminate
- Early entry into the building
- Early tour merchandise shopping opportunity
- Photo opportunity in front of the VIP backdrop to celebrate your evening
- Dedicated VIP entrance
- On site VIP host and concierge
VIP 2: GOLD SOUNDCHECK PARTY VIP PACKAGE
Includes:
- One general admission ticket with early entry
- Enjoy access to the pre-show Soundcheck Party and Q&A with Tate McRae
- One VIP merch item hand selected by Tate McRae with branded candy
- One VIP exclusive tour poster that comes with exclusive Tate McRae content
- One commemorative VIP laminate
- Early entry into the building
- Early tour merchandise shopping opportunity
- Photo opportunity in front of the VIP backdrop to celebrate your evening
- Dedicated VIP entrance
- On site VIP host and concierge

VIP 3: TATE MCRAE HOT TICKET PACKAGE
Includes:
- One general admission ticket with early entry
- One VIP merch item hand selected by Tate McRae with branded candy
- One VIP exclusive tour poster that comes with exclusive Tate McRae content
- One commemorative VIP laminate
- Dedicated VIP entrance
- On site VIP host and concierge
--
PLEASE RIDESHARE - Parking is limited around the venue. We strongly recommend using rideshare apps like Uber or Lyft for transportation to and from the venue. There is a designated rideshare pick up / drop off location near the entrance for your convenience.
Need an Access Code? Sign up for our newsletter to get new show announcements, exclusive presale codes, rental discounts and more. Sign up HERE.

*Presale codes are usually sent out on Thursdays at 10am as part of our weekly newsletter.
Artist Info
Tate McRae
Calgary native singer/songwriter/dancer Tate McRae has become the artist to watch with over 5.3 billion career streams, over 765 million video views, a #1 Top 40 hit and multiple #1 dance hits. She's been nominated for a Billboard Music Award, a People's Choice Award and four iHeartRadio Music Awards among others. Tate was featured on Variety's 2022 Power of Young Hollywood list, Billboard's 21 Under 21 list along with Forbes 30 Under 30 list as the youngest musician on the list. She was named one of Apple Music's Up Next Artists in 2021, YouTube's Artists on the Rise, and MTV's Push Artist in 2020. Tate's #1 RIAA certified 3x Platinum single "you broke me first" has amassed over 1.7B streams since its release in 2020. She has two EPs under her belt, TOO YOUNG TO BE SAD (2021) and ALL THE THINGS I NEVER SAID (2020). She's collaborated with various artists including Regard & Troye Sivan on their #1 dance hit "You," along with Khalid, blackbear, Tiësto, and Jeremy Zucker. Tate has toured the world and performed at various music festivals. In May 2022 Tate released her debut album, i used to think I could fly which landed at #1 on Spotify's Global Top Albums Debut Chart and charted in the top 10 in multiple countries upon release. Featuring RIAA certified Platinum single "she's all i wanna be" and certified Gold track "feel like shit," the album showcased Tate at the top of her game with all-star writing collaborators and producers.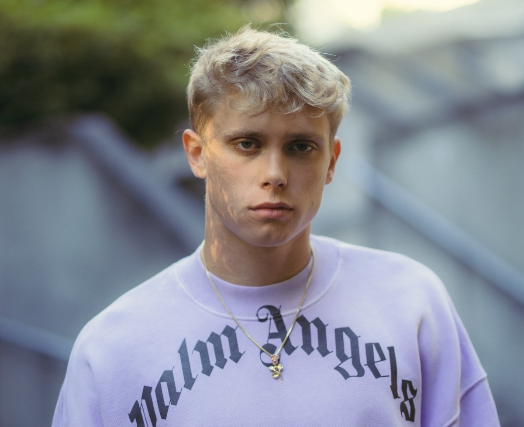 charlieonnafriday
Singer and rapper Charlieonnafriday is known for his yearning, romantic blend of melodic pop, R&B, and hip-hop. He made his debut with 2022's Onnafriday (featuring his viral hit "After Hours") and hit Billboard's Pop 100 with 2023's "That's What I Get."
Born Charlie Finch in Seattle, Washington, Charlieonnafriday became interested in music growing up and first started rapping with friends in eighth grade. It was in his junior year of high school, during the COVID-19 pandemic, that he began focusing on writing and recording his own songs, drawing inspiration from artists like Macklemore and Justin Bieber. He began posting tracks online and developing a strong social media presence. In 2021, his song "After Hours" went viral, racking up millions of views. He eventually signed with Island Records and in April 2022 released his debut album, Onnafriday. More singles followed, including "Enough" and "That's What I Get," the latter of which reached 22 on Billboard's Pop 100. - from AllMusic.com