About This Event
In accordance with Vanderbilt University Medical Center guidance on entertainment venues, guests will be required to show either proof of COVID vaccination (a photograph of a vaccine card is acceptable) or proof of a negative COVID test within 72 hours (either PCR or antigen test is acceptable) upon entrance to The Ruby Gala. The guest's name must be clear on the proof of vaccination or test result.
--
The Ruby Gala will support those living with HIV, celebrate the achievements in overcoming HIV in Nashville, and imprint sustainable HIV care onto the future of our community. It will continue to rekindle the activism and awareness that is crucial to ending the HIV epidemic as a new generation of leaders emerges.
*Attire is black tie optional

Sponsors
Music City PrEP
NPS Pharmacy
Quadient
Dream Hotel
Lipman Brothers
Service Source
Cushman & Wakefield
Lady Luck Songs
Redbull
Ronald J. Sofka Company
Law Offices of Alan Fister
Artist Info
Kalie Shorr
According to The New York Times, Kalie Shorr's debut album - Open Book - was the #7 Best Album of 2019 alongside Taylor Swift, Lana Del Ray and Ariana Grande. Along with a long list of other accolades, Variety called Open Book "2019's best freshman country effort," and Stereogum said "country music needs this kind of fire." Shorr burst onto the Nashville music scene in 2016 with her self-penned hit "Fight Like A Girl" and shortly after, the Portland, Maine singer-songwriter became a SiriusXM "Highway Find" and was spotlighted by Apple Music, Spotify, CMT, Pandora, Taste of Country and Billboard magazine. She was named a "CMT Next Women of Country," "The New Nashville" by Teen Vogue and a "Top 10 Country Artists To Watch In 2018" by the Huffington Post. She made her Grand Ole Opry debut in 2018 and has gone on to play that heralded stage 18 times so far. From her work with the all-female, singer-songwriter collective Song Suffragettes, Shorr has been featured on PBS NewsHour, NPR's "Morning Edition" and "On Point" as well as in ELLE Magazine. She rang in 2020 performing for over 200,000 people at Nashville's largest-ever New Year's Eve show with Keith Urban, Stevie Nicks, Jason Isbell, The Struts and more. With wide praise for her debut album current album coming from diverse outlets like NPR, Slate, People, No Depression, Rolling Stone and more, Shorr's 2020 lit up with The Guardian (UK) and The Tennessean calling her an artist to watch. She is the most recent signee to New York-based TMWRK Records who released the expanded album Open Book: Unabridged late last year. In January, an acoustic, unreleased Kalie song called "Amy" exploded on TikTok with over 3 million streams after which esteemed producer Butch Walker jumped in to produce that track with more coming later in 2021. Kalie released her quarantine-recorded recent EP 3X3, Vol. 1: The Chicks as a nod to one of her all-time favorite bands and albums. In addition, Kalie continues to create a weekly podcast called "Too Much to Say with Kalie Shorr" produced by Bobby Bones and distributed by iHeartMedia.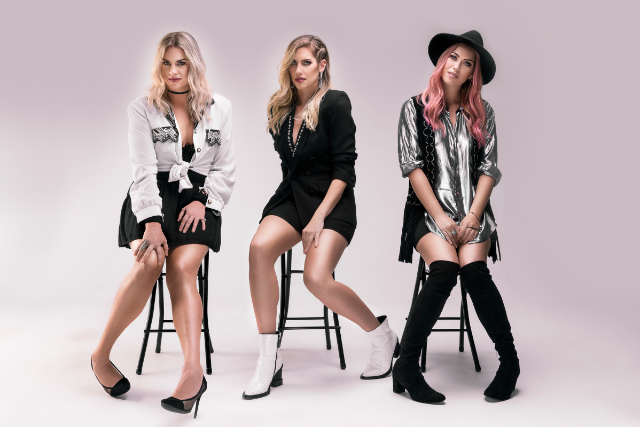 Dozzi
Australian sisters – Andrea (Mandolin & Vocals), Jesse (Guitar & Vocals) & Nina (Keyboards & Vocals) – make up the dynamic trio DOZZI, unlike any other girl group on the country music scene. Inheriting a unique style from their influential musical parents, combined with a love of country and pop music, DOZZI has created their own signature sound. After success in their home country, the girls decided to pack their bags and fly halfway across the world to pursue their dreams in Nashville, TN.
Now permanently based in the USA, DOZZI released their debut EP "Worth the Wait" in Dec 2019 with rave reviews.Billboard Magazine were quick to cover the release stating, "the siblings' impeccable harmonies stand out'". Rolling Stone dubbed breakout single "Fools" one of the "10 Best Country Songs to Hear Now", while The Tennesseanclaimed, "sister trio Dozzi delivers 'girl power punch'!" with second single "Ramones T-Shirt".
Rounding out the highly successful independent release, title track "Worth the Wait" caught the ear of music programmers at Radio Disney Country and Music Choice, and is now in rotation. If 2019 was any indication, 2020 will be another big year for DOZZI!