About This Event
--
This show currently has no COVID safety requirements for attendees. This is subject to change. If this changes we will be sure to update this page as well as notify all ticket buyers via email.
Artist Info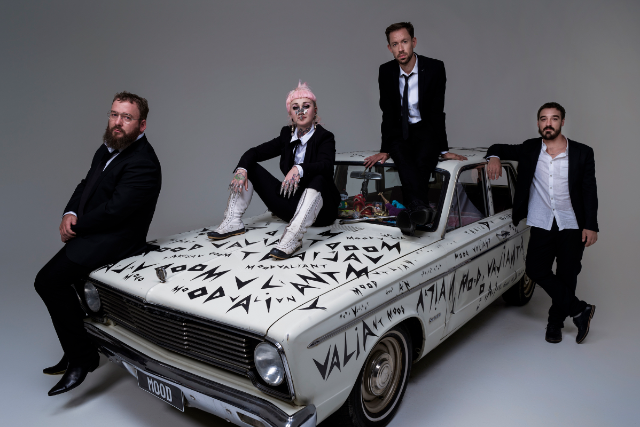 Hiatus Kaiyote
Melbourne-based, worldwide-beloved, twice-Grammy-nominated Hiatus Kaiyote returns in 2021 with their new album Mood Valiant, on Brainfeeder Records/Ninja Tune.
Comprised of Naomi "Nai Palm" Saalfield (guitar, vocals), Paul Bender (bass), Simon Mavin (keys), and Perrin Moss (drums), Hiatus Kaiyote broke internationally in 2012 with their first LP, Tawk Tomahawk, which was praised by simpatico musical travelers from Erykah Badu to Questlove to Prince, and embraced by DJs like the BBC's Gilles Peterson, DJ Jazzy Jeff and
Anthony Valadez (KCRW/Morning Becomes Eclectic). Their first R&B Grammy nomination, for their song "Nakamarra," was followed by a second for "Breathing Underwater," from their sophomore album, 2015's Choose Your Weapon. Still, their music defied categorization: Some called it "neo-soul," others "future soul"; the band calls it, simply, wondercore. Their music found fans in hip-hop, sampled on songs by The Carters (Beyonce & Jay-Z), Kendrick Lamar, Anderson .Paak, Chance The Rapper, and Drake—with whom Nai Palm collaborated on his Scorpion album; and in jazz, when Robert Glasper invited the band to appear on his album of Miles Davis remakes, Everything's Beautiful. Their records and live shows won them raves in The Guardian, Rolling Stone, and in the New York Times, where Jon Pareles wrote that "Hiatus Kaiyote's music stretches and bends every parameter."
That spirit of blending began with Nai, growing up in her mother Suzie Ashman's Melbourne home, vibrating with the sounds of Motown and flamenco, African music and hip-hop. After her mother died of breast cancer, the 11-year-old Nai went to live with a foster family high in
the Australian Alps. By the time the adolescent Nai found her way back to Melbourne, she had acquired three things: an abiding, spiritual connection to the land; an uncanny, self-taught mastery of two instruments, the guitar and her own voice; and the ability to write songs that were as complex as her influences. That's what struck Paul Bender, a multi-instrumentalist from Tasmania who'd studied music at the University of Miami, who saw Nai playing at a bar and offered to put a band together for her.
It would be a year before Bender and Nai began working together, in 2011. Early on, they invited two other musicians to play with them — drummer Perrin Moss, self-taught like Nai; and keyboardist Simon Mavin, like Bender, a university-trained professional of ample chops. The chemistry instantly yielded a solid unit. The four began recording their first album in Mavin and Moss's "share house" on Clarke Street in Melbourne's Northcote suburb, and Hiatus Kaiyote quickly developed a following on the local scene. A gig opening for Taylor McFerrin made the headliner an instant fan, and the American artist spread the Hiatus gospel to tastemakers around the world, triggering the series of events that would lead to their first two full-length releases, which transformed them from a local band into a global touring act.
After four years of recording and touring — from Glastonbury in England to Fuji Rock in Japan, from rocking the Roots Picnic to selling out the Sydney Opera House — the band took a break. In 2017, Nai Palm released a sublime, stirring guitar-and-voice solo LP called Needle Paw, while her bandmates crafted their own projects: Bender's Pet Sounds-inspired The Sweet Enoughs; Perrin's travelogue of his multi-instrumental self-education, Clever Austin; Simon's collaboration with Aussie soul outfit, The Putbacks; and the boys' instrumental trio, Swooping.
By October 2018, recording for Mood Valiant was already well underway, and backing tracks were largely in place, ready for Nai's vocals. Then, during a brief swing through the U.S., Hiatus's frontwoman was diagnosed with breast cancer. Her mother's death from the same disease was never far from her mind: "I became so acutely aware of my mortality." Nai rushed back to Australia and into the hospital, where she underwent a life-saving mastectomy. Bender was there when Nai was wheeled to her room after surgery. "She came back in like a champion," he says. "I've never seen anyone go through something like that and be so triumphant, vibrant, present, grateful. She was alive. It reframes what things you should put your energy into: Let's just all be alive."
As Nai recovered, the band turned back to their work with altered perspectives. Her lyrics, even those written before her illness, took on a prescient quality. Then a trip to Rio de Janiero in late-2019 to work with legendary Brazilian arranger Arthur Verocai shifted the vibe of the entire album. "We had recorded the song 'Get Sun,' and it already sounded good," says Bender. "We had no idea what he had written for it." When Verocai fired up his horn and string sections, it was a release for everyone. "Tears were running down my face," Bender recalls.
"Verocai is such a lovely man," Perrin says. "The engineer never stopped smiling, the set-up was beautiful, so after Arthur finished, we asked if we could use the studio for the rest of the evening." The all-night session brought two new songs onto the album. Nai and Simon tracked an epic ballad, "Stone or Lavender," while Bender and Perrin banged out a bass and drum groove that that band then turned into the song "Red Room" in an act of spontaneous composition.
The result is an album, bookended by Verocai's strings, that relaxes into a groove: sunlit, beguiling, masterful. Behind everything is Hiatus' familiar sense of musical adventure, their knack for making the complex sound simple: Simon's experiment with an odd rhythm in groups of 5 becomes a cascading jam called "Rose Water." Bender and Simon's trading of single notes, back and forth, to make a melody becomes "All The Words We Don't Say." Nai's cheeky take on sex-obsessed, three-minute pop hits becomes "Chivalry Is Not Dead," a song about the bizarre mating rituals of leopard slugs (they turn fluorescent) and seahorses (they lock tails and dance).
"In this mysterious, democratic approach to making music, you just never know what's going to happen." says Simon. "Sparkle Tape Break Up" started with Simon's idea for a crazy layer-cake of synth sounds; though Nai wrote the lyrics, they resonated deeply with Bender who championed it when it came time to decide which songs made the lineup. The album ends with the delicate "Blood and Marrow," a Bender bassline to which Nai and Perrin improvised, that Simon pegs as his favorite: "It's a classic Hiatus studio song that's got beautiful exploration and mystery." For Nai, the lightness of the track was a foil for her grief: "This was post-surgery. I lost my breast. Four months later I lost my parrot, Charlie, who was like my bird-child. Losing Charlie, I grieved him more than I grieved losing my titty. Before he died, we were watching all the Disney films together, so that's the reason the song has this kind of Disney sonic palette."
The irony of the completion of Mood Valiant was that it coincided with another health crisis, the COVID pandemic. In the Great Pause, the band found more time to tweak, and more time to create. The ups and downs, the starts and stops of the process, inform the very name of the album, for which Nai evoked, again, the spirit of Suzie Ashman: "My mother had two Valiant
station wagons, iconic, vintage Aussie cars," Nai says. "One was white and one was black. And depending on what mood she was in, she would drive one or the other. She was a single mother with six kids: If she drove the black one, you knew not to fuck with her."
"The title of the album really encapsulates the whole spectrum of the journey," Bender adds. "Everyone's been through some big challenges. I feel like we charged through the mud to get this thing done. And there's just this valiant, victorious feeling, coming out of storm into calm waters. The sun is shining, we see the shore. We did that! I feel proud of the way this sounds, the emotional depth of it. And I hope that it brings people some sort of comfort in this hard time."
For Bender, the act of making the album brought him solace, too, and clarity about the nature of friendship: "At the end of the day, who was there for me? The band. They're my homies."
"When you think your life is going to be taken away from you, it makes you think about who you are," Nai says. "I guess after the breast cancer scare I decided that I needed to prove to life that the offering I have is genuine. My only wish is to live and offer my experience of time and beauty."
Mood Valiant
is an act of love, of courage, of altered perspective, of sister-and-brotherhood.