About This Event
--
PLEASE RIDESHARE - Parking is limited around the venue. We strongly recommend using rideshare apps like Uber or Lyft for transportation to and from the venue. There is a designated rideshare pick up / drop off location near the entrance for your convenience.

Need an Access Code? Sign up for our newsletter to get new show announcements, exclusive presale codes, rental discounts and more. Sign up HERE.

*Presale codes are usually sent out on Thursdays at 10am as part of our weekly newsletter.
Artist Info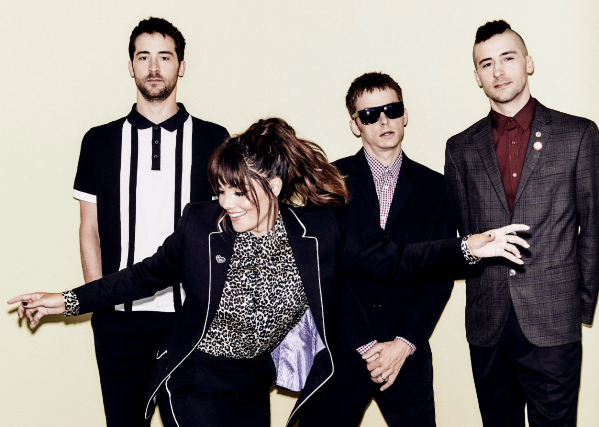 The Interrupters
When considering Los Angeles outfit The Interrupters, take a moment to kindly forget jargon like "SoCal punk rock" or "next wave ska" or whatever perimeter you want to secure around them. A typical Interrupters gig feels like going to church where all the
religious iconography is taken out and replaced with mirrors so the band and audience become one. Ignited by frontwoman Aimee Interrupter and the Bivona brothers'
indefatigable enthusiasm, attendees can see joy in action; discover strength in numbers; and feel bulletproof when facing the forces that haunt them. There are no victims or outcasts in attendance when the quartet are onstage: Transfixed by the
legendary '80s 2 Tone ska movement and fueled with a contemporary energy that makes 180-bpm thrash-metallers seem positively slack, Aimee Interrupter and the Bivona brothers Kevin, Justin and Jesse blur the enthusiasm between band and
audience in a way that's equal parts dance party, cardio workout and personal therapy.

The Interrupters formed in the band's hometown of Los Angeles in 2011. Guitarist Kevin Bivona and his twin brothers Justin (bass) and Jesse (drums) were thrilled by the 90's punk-rock resurgence as well as the groove, energy, and messages found in the original 2 Tone ska bands. Prior to meeting Aimee, the Bivonas were mainstays of Tim
Timebomb And Friends, the ad hoc band founded by Tim Armstrong, working in the studio and backing the Rancid co-founder on tours. It was only after the Bivonas met Aimee in 2009 and started playing together did The Interrupters know they had a 100db je ne sais quois between them. Armstrong has been a mentor, producer, and acted as an honorary "fifth Interrupter" with the band, offering sage advice to parallel the band's sweat equity.

Their self-titled 2014 debut caught on like pacific coast wildfire, bolstered by incredible songs, Aimee's 100,000-watt charisma, and a stage presence best described as the kinetic energy of Hi-Bounce balls in human form. The Interrupters maintained their velocity across two additional LPs, Say It Out Loud (2016) and 2018's tour de
force, Fight The Good Fight, all issued on Hellcat, Armstrong's imprint via Epitaph Records. And let's not forget the relentless touring that included a stint on the Vans Warped Tour and various support slots for punk-rock royalty such as Rancid, Bad Religion, Green Day, among others.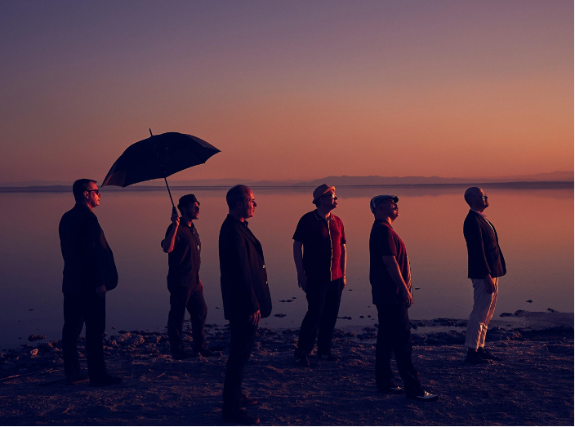 The Slackers
The Slackers are a sextet based out of New York City. They mix together ska, reggae, soul, and rock n roll, balancing strong rhythms with classic songwriting and poignant contemporary lyrics.Since 1991, the Slackers have released fifteen albums and countless singles, while their 1000s of live performances feed their fans with energetic sets of ecstatic music.
The press state that the Slackers are "the best ska band in the world" (Rude International), "the pick of the US crop" (Metal Hammer), "the sound of New York' (New York Times), "is about as close to perfect as it gets" (Ink 19), and "one of the best bands in the United States" (axs.com).
In normal years, the Slackers play around 100 live shows a year, but 2020 put that to a screeching halt. Looking for a safe and responsible way to perform, the band switched to livestreams and they made 4 livestream full band concerts. Each concert was broadcast worldwide and reached 1000s of attendees. In addition to concerts, the band kept busy with dozens of performances by individual band members on Facebook and Instagram.
2021 was a year of a hard won come back. The Slackers started the year with 2 international livestreams. They then leapt into gigging live by selling out 7 nights of small limited capacity outdoor gigs in New Jersey and Brooklyn in May and June. They moved to larger festival sized audiences at the Levitt Pavillions in Bethlehem, PA and Denver, CO.
The second half of 2021 saw a return to club dates with the band doing 28 shows in november and december including sold out shows in Cleveland, Berkeley, and Cambridge. This tour was featured in the W ashington Post who noted "The Slackers remain at the top of their game."
A new album, 'Don't Let The Sunlight Fool Ya' (Pirates Press) is slated for release on April 15, 2022. The first single from this album, 'Windowland/I Almost Lost You' came out in November 2021. The band is currently booked for 60 dates in 2022 including dates in the United States, Canada, the UK, and EU.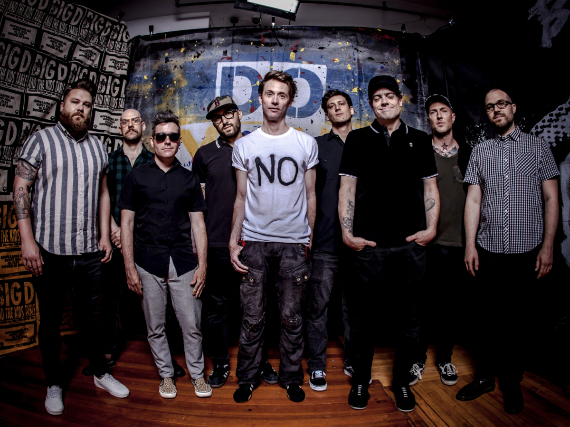 Big D and the Kids Table
BIG D AND THE KIDS TABLE – DO YOUR ART
Join 5-Timers Club with SideOneDummy Records
Inspire, Uplift and Dream Big and, dare we say, Pick It Up

DO YOUR ART finds Big D and the Kids Table sounding as fresh and inspired as ever for their fifth album with SideOneDummy Records. Produced and engineered by Reel Big Fish's Matt Appleton, DO YOUR ART is a musical melting pot, highlighting the band's versatile talents and delivering a mixture of punk, ska and dub-reggae songs, as well as a few creative tracks that frontman David McWane cut-up and dubbed-out from his favorite '60s B-films. The 20-track album is truly a moveable feast. And what's moving are your feet!

When David McWane sets out to write a new Big D And The Kids Table album, he has one main goal in mind: to make the iconic kind of record that he loved as a teen. As a teenager, David and his friends would drive around aimlessly, listening to albums that would form the soundtrack to their youth. Timeless music that years (and even decades) down the line, they'd never quite forget. It's McWane's hope that DO YOUR ART will define similar moments for people now and become a cherished memory of these days and times. "I write every record for that aimless teenage car ride," he admits.

DO YOUR ART is packed full of yet another blast of the energetic uplifting ska-punk tunes that fans have come to expect from Big D and the Kids Table: There's the boisterous, breakneck party-starting "Dead Bottle," the bitter black humor of "Sociopath" and the frenzied fun of "Metal In The Microwave" (the latter two, says McWane, are "to remind people of the simple things!"). Then there's the politically-charged stomp of "Dispirit," and "Med Her Lazy," a song which ethically challenges that medications should be for the well-being of a child, not over-prescribed for the convenience of those around them such as teachers and parents. Elsewhere, the jaunty "New Day" turns heartbreak into a positive new opportunity, while the laid-back melancholy of "Beautiful Way" finds defiance, hope and acceptance in oblivion.

DO YOUR ART is an inherently political mission statement delivered with gusto and enthusiasm to anyone creative to remind them to keep going, even if the odds are increasingly stacked against them in this hyper-capitalistic society.

"I wanted to instill in all artists to keep doing it," says frontman David McWane. "Life might pull you away with its demands: but don't give up. Every musician, artist and dancer needs to realize that there's magic inside of them that other people just don't have. Always use that magic."

It has been eight years since Big D and the Kids Table released original music (2013's double whammy of Stomp and Stroll). In that time, the members of Big D have kept themselves busy with projects The Doped Up Dollies (co-fronted by McWane's wife Brianne) and Boston panic-rock outfit CUIDADO. Toss a growing family with two young children into the mix, and that's one hefty schedule for McWane, who still makes that time to do his art!

"I definitely want this record to be helpful for people mentally," says McWane. "It's somewhere for them to go to and laugh. So listeners can focus on recognizing all the good things in their lives—all the beauty, and all the people who love them—and make sure to enjoy their life and DO YOUR ART!"

Big D and The Kids Table are:

David McWane - Vocals
Alex Stern - Guitar, Vocals
Ben Basile - Bass
Alex Brander - Drums, Percussion
Casey Gruttadauria - Keys, Piano, Melodica
Ryan O'Connor - Saxophones
Jon Degen - Saxophones
Paul E. Cuttler - Trombone, Flute
Logan La Barbera - Trombone

Featuring vocals by The Doped Up Dollies
Sirae Richardson
Erin MacKenzie
Brie McWane

Produced and mixed by Matt Appleton
SideOneDummy Records

DO YOUR ART Tracklist
Dead Bottle
Too Much
Toyed
Sociopath
How About A Pizza?
Metal In The Microwave
Med Her Lazy
New Day
You Buggin' (feat. Melt-Banana)
Teenagers From Outer Space
Lost in London
Beautiful Way (feat. The Doped Up Dollies)
Strong & Fair (feat. The Doped Up Dollies
Tripping Over Shoelaces
Dispirit
Baby Ruth, Zagnuts, Zero, Chicken Dinner, Bit-O-Honey, Snickers, Milky Way
Militant Humorist
Forever A Freak (feat. The Doped Up Dollies)
Race Car Song
Danny and Nannie

Save this for a track by track piece:
Beautiful Way

"At the time I wrote that song," remembers the singer about the latter, "I was very worried about everything. It was America's worry time, so I just broke it down in my head: 'Well, what's the worst thing that can happen?' And the worst thing is they drop the bomb that we're all worried about. But if they drop it, they drop it—as long as you're with someone, that's the story. It's almost like in Pompeii, where they found the remnants of a couple hugging. Which is just beautiful."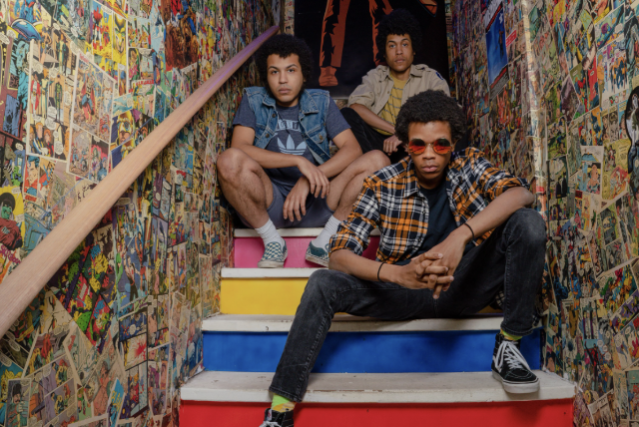 Radkey
As pre-teens growing up in small-town Saint Joseph, Mo., brothers
Dee, Isaiah
and
Solomon Radke
enrolled in rock 'n' roll high school as their ticket out of Nowheresville. The brothers played their first show opening for
Fishbone
in 2011 and haven't looked back since. In 2013, the
Cat & Mouse
and
Devil Fruit
EPs took Radkey from sweaty backroom punk gigs to storming the UK's
Download Festival
and
Riotfest
in the U.S. They continue to tour nationally and internationally supporting bands such as the Foo Fighters on their 26th Anniversary Tour, Jack White, Rise Against, The Damned, WIZO, Descendents, Local H, and most recently, The Offspring.
Radkey enlisted
Arctic Monkeys
producer/mixer, Ross Orton, to produce their debut record,
Delicious Rock Noise
. The result was an across-the-board detonation of several shades of rock, punk, and wild abandon - and riffs, riffs, riffs.
Radkey partnered with
MasterCard
in January 2018 for the
#StartSomethingPriceless
campaign featuring
SZA
. The campaign included a docuseries that premiered on
The Ellen DeGeneres Show
while commercials aired during the
60th Annual GRAMMY Awards
televised broadcast.
2019 brought the release of
No Strange Cats
,
produced with
Bill Stevenson (Descendents)
at
The Blasting Room
where Radkey's sound continued to expand and mature, reflected in the sleek guitar and growing bass.
The 2020 self-release of Radkey's third album,
GREEN ROOM
on
Little Man Records
has been described as "A rock album for the 21st Century" (
Atwood Magazine
) made up of thick, slick rock and roll sounds built on power chords and hypnotic vocal melodies.
Radkey is charging into 2023 with new single releases and another full album on the horizon. Radkey is a testament to the future of music, and this band is primed for rock and roll glory.
"By playing a retro style of hard rock/punk (while adding newer layers like sludge), the band is able to tune into an overall feel that hasn't really existed since the dawn of Nirvana: seriously good rock that doesn't take itself so seriously." (New Noise)